How do telcos in DACH support their customers during the Corona crisis?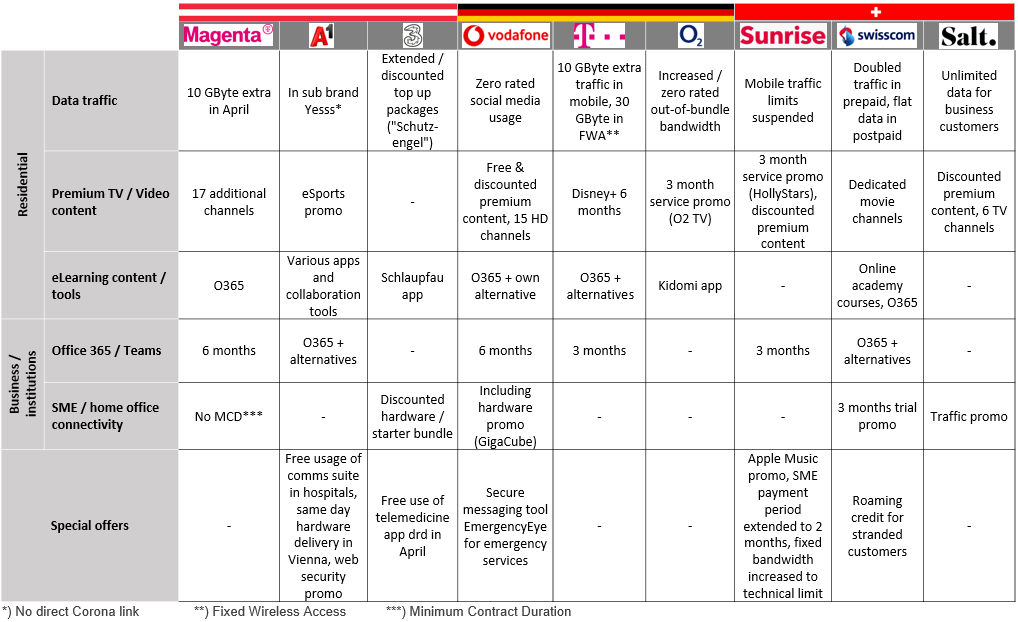 Over the past few weeks, the importance of telecommunications as the backbone of a modern society has been brought to our attention by many factors: Due to the increased information and communication need of people, the use of fixed and mobile networks has increased significantly, in many cases to a record level that has never been reached before. In addition, entire areas of life such as training and office work have shifted almost entirely to an online setting with minimal lead time.
This development not only raises exciting social questions (for example how home office works despite corporate presence cultures), it also illustrates the still very relevant role of network operators in modern society and how they deal with the resulting responsibility.
So how do the leading network operators in the DACH markets (Germany, Austria, Switzerland) face up to this responsibility?
First of all, there appears to be solid preparation: with a few exceptions, there were no service interruptions despite peak usage. Capacities in operation, assurance and customer care were secured, support measures to the respective governments – right up to the controversial provision of customer usage / location data – were set up and worked quickly.
In addition, the leading network operators have also launched a range of service innovations and offers to support their customers in the crisis and, if necessary, beyond:
• Numerous network operators have implemented temporary tariff measures. The expansion of data traffic limits can be observed most frequently (e.g. at Magenta in AT, Telekom Germany and O2 in DE, Sunrise and Swisscom in CH). At Salt in CH, the expansion is limited to business customers only. Vodafone DE is content with free social media use.
In the lower price segment of resellers / resellers, the price competition in AT has speed up significantly in recent weeks (through HoT and Yesss) – however, not necessarily driven by the crisis.
• Network operators with landline and TV offers have also used the opportunity to sweeten their media offerings to customers stuck in home quarantines: For example, several network operators (Magenta AT, Vodafone DE, Salt CH) have added freely available premium channels to their TV offerings, especially for young target groups. Prices for video-on-demand content have been reduced in many areas (Sunrise CH), in other cases the entire TV product is offered as a free trial (O2 DE, Sunrise CH, Salt CH). In Germany, Deutsche Telekom exclusively offers Disney+ for 6 months free of charge. Some of the offers also extend to the music sector: Sunrise in Switzerland offers Apple Music for 6 months free of charge, Drei in Austria reduced the price for its Amazon Music Unlimited resale.
• The area of eLearning receives special attention from many network operators: While some operators fight for the target group children and young people with dedicated apps (three AT, O2 DE), others approach the topic more extensively: Swisscom in Switzerland pushes its own online academy, A1 in Austria offers numerous learning apps from its startup program free of charge.
• There is less differentiation in the area of professional use by business customers and institutions: numerous network operators offer collaboration solutions based on Microsoft Office 365 free of charge – either for 3 (Telekom DE, Sunrise CH) or 6 months (Magenta AT, Vodafone DE). There is also a wide selection of offers for companies that need to start up home office concepts at short notice: These include services / platforms (A1 AT, Vodafone DE, Telekom DE, Swisscom CH), commercial discounts (Magenta AT, Salt CH) and occasionally also discounted hardware (Drei AT, Vodafone DE). The lower degree of differentiation is not surprising, since the respective measures were frequently predefined in government initiatives (e.g. "Digital Team Austria" in AT) together with the network operators.
• More interesting are the offers that network operators are launching beyond the general market trend: A1 enables patients to use their telephony and surf the internet free of charge via the communication terminals installed in many Austrian hospitals. An express delivery service for CPE has also recently been tested in Vienna. Vodafone provides healthcare providers in Germany with its video communication tool EmergencyEye free of charge. Swisscom offers a roaming bonus for customers stranded abroad. Also in Switzerland, Sunrise offers its SME customers an extended payment term of 3 months – a measure that is certainly highly valued in the crisis, although potentially expensive for the operator – and also makes a special offer to its fixed network customers by temporarily increasing bandwidth to the highest performance level technically possible in the access network.
The motivation for these offers comes from two sources: Firstly, due to the apparently critical infrastructure they are responsible for, the network operators are in the focus of social attention. Of course they want to be in a good position here – while even more definitely avoiding negative perception. There are also commercial interests – in the crisis, and also beyond: Especially the companies that are now starting up home office models – if they survive the crisis – will probably not completely close them down again. This also applies to public institutions such as schools and universities. This offers potential for increasing sales and customer loyalty.
In the residential customer area, there is the hope that customers will no longer want to do without the higher level of traffic volume, bandwidth and (included) media services learned and appreciated during the crisis.
Overall, the network operators and the resellers operating on their networks will not be spared the effects of the coming recession with rising unemployment, bankruptcies and declining consumption. With a focused answer to the current challenges, however, they have the opportunity to gain an advantage with individual customer groups that might ultimately surpass the crisis effect.